Youth Beginner Mountain Biking
Tuesdays, Eastern Civic Center, September 18th – November 8th 2017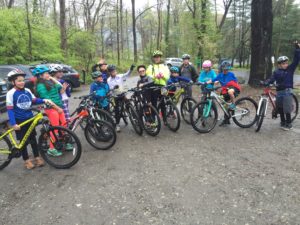 The program runs on Tuesdays from 4-5 pm for eight weeks. This program will introduce youth riders ages 6 and 10 to the exciting sport of mountain biking. The first few weeks (# of weeks determined by group ability) will be held at the Eastern Civic Center (9/19/17 – 11/8/17). Riders will work on increasing their bike confidence with skill building activities – weaving in and out of cones, emergency braking, "ready" position, body positioning, and more. Once all the riders are able to complete required skills, the team practices will move to Mianus State Park. (4 minimum, 10 maximum)
PRACTICE SESSIONS: IMPORTANT INFORMATION
The first practice sessions will be at the Eastern Greenwich Civic Center, 90 Harding Rd, Old Greenwich.
Parents will need to drop off and pick up at each location. For riders under 8 years old, parents or guardians must remain on-site.
Mianus River Park: 49 Merriebrook Ln, Stamford, CT 06902 for practices later in the session. Please park in the upper lot by the barn so that children are not riding on roadways or drives where cars are moving.
8 weeks, $200. (No USA Cycling Licenses are required)
Location: Eastern Civic Center
Day: Tuesdays
Time: 4:00pm – 5:00pm
Dates: Sept 18th – Nov 8th
Cost: $200
Sign Up!
---