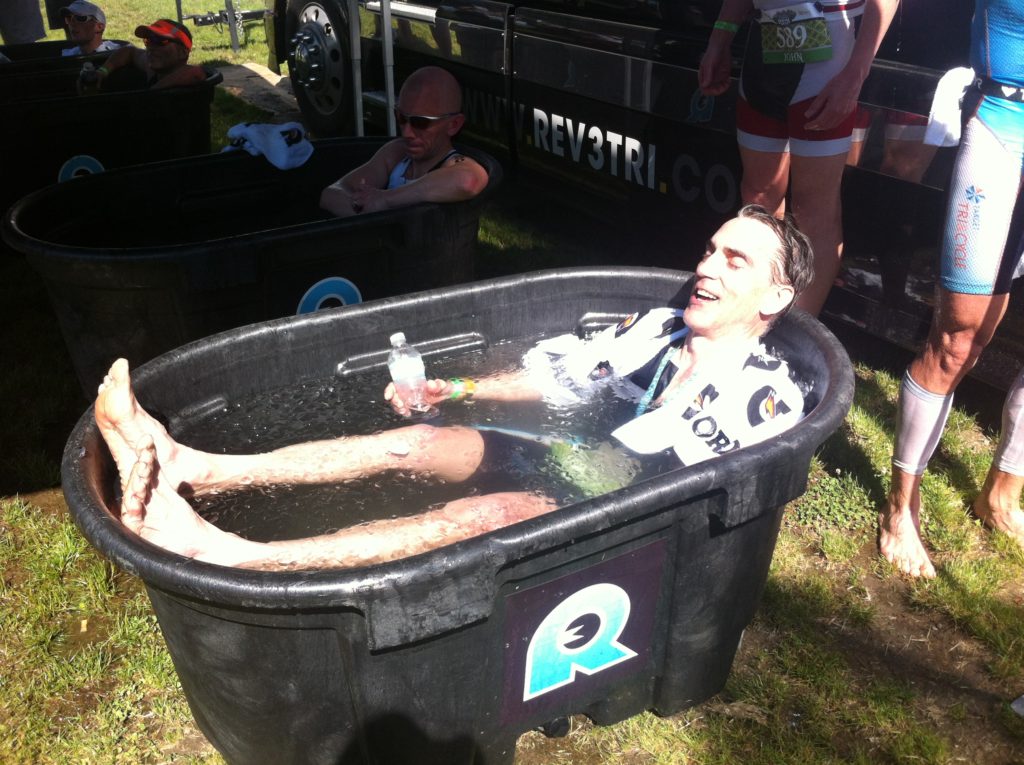 As I write this article, I am in Dallas, Texas for the National Speakers Association Influence 2018 and it is 102 degrees in the shade y'all!  When I went out for my run yesterday, it was so gross I admit I chose the dreadmill instead.  It's been over 100 degrees in New England, the Mid-West and even my friends in Colorado are being baked in a dry oven.  Alas, we all have races coming up, so we must adapt.
There are many things to consider when training and racing in the heat (especially hot and humid environments) but here are three strategies that you can use right now!
Train Early
Growing up in St. Louis, MO where the heat and humidity let us fry eggs on sidewalks, I learned the early worm gets the workout.  Roll right out of bed, put some ice cubes in your sports bottle, and get it done.  Ice in your bottles (or freezing bottles the night before morning workouts is awesome!  I love frozen grape Roctane)  Even if it's muggy and hot, at least the sun won't suck out your energy.
Keep The Sun off Your Skin
If you're out there for longer than an hour, you must plan ahead and try out Arm and Leg Coolers, Cooling bandanas, Ice Shirts and breathable caps.  These are great products that have worked for athletes the past few years, and may just be the ticket for you.
SPF resistant shirts and hats are the first line of defense.  If you're racing, then you'll probably want tight-fitting, aerodynamic advanced cooling and SPF-rated clothing.  One amazing example is arm coolers, but they're not all created the same.  The Zoot Icefil Arm Coolers have been my go-to for the last few years.  Racing in the Okanagan Desert for ITU Long Course Worlds last year and the Ironman 70.3 World Championships in Chattanooga, I needed to keep my cool.  These really made a huge difference.  Zoot explains it so well, here's what they say about their product: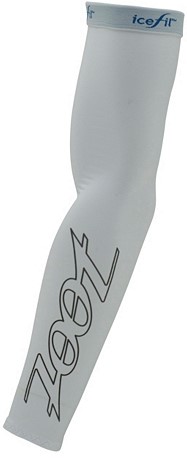 "The Zoot Ultra Icefil Arm Coolers is constructed with ULTRAcell AC with Icefil, which combines xylitol and thermal radiation nano technology to reduce temperature by up to 5.4°F!! Basically
, these sleeves will wick all the moisture off of your skin and allow it to evaporate, but during this process your sweat is condensed into a cooling vapor that cools your body by about 5.4°F. These arm sleeves also feature elastic grippers at the top for a secure fit and UPF 50+ sun protection."
Popular brands DeSoto and Sugoi have also been excellent players in the Arm Cooler, Leg Cooler and Shirt Cooler markets.  Try them on your next hot training day, and you will be so surprised how much cooler you feel.
Keeping your neck cool is important in longer events.  When I first started riding randonees (minimum distance 200K) in hot and humid weather for hours on end (I know, FUN right?), we tied tube socks with ice in them together to wrap around our necks when it got really bad.  The ice didn't last long, but it certainly helped us for a few miles after each stop.   Fortunately, there are now much more sophisticated neck coolers on the market.  AlphaCool Ice Band Neck Wrap is one such option.  This mini towel wraps around your neck and with unique technology manages to stay cool.  Imagine running along or riding along with this tucked nicely into your neckline and not feeling the blazing heat on the back of your neck.  This product came highly recommended to me by a researcher in the area of heat performance and dehydration at one of the pre-eminent athlete hydration labs in a university setting.  For a $4.99 investment, it's definitely worth a shot.  While you may not end up racing with it, it could make your training in heat tolerable.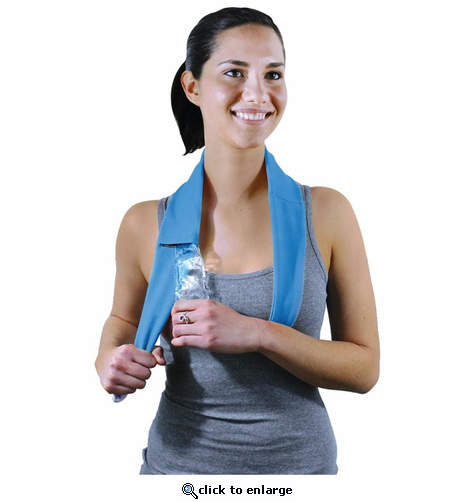 Finally, using a hat for running or cycling can make such a difference.  Many athletes underestimate how much energy they use in squinting against the sun, and how much the sun beating down on their head takes out of them. Having the right hat or cap makes so much difference.  Choosing a white breathable and lightweight run hat with an optional neck cover is amazing for super hot races.  Unlike a visor, ice can be stored in the hat to melt deliciously down the back of your neck helping to keep you cool.  A white light weight summer cycling beanie with a mini Euro brim also helps keep sun out of your eyes and off your head.
Pre-Cooling
If you're racing short event like a 5K, 10K, sprint triathlon, criterion or a race that's less than an hour in duration, pre-cooling techniques might be a good strategy.  You could immerse yourself in cold water, but that isn't super practical for anyone.  Another method would be to use ice clothing, but again that could be too obscure.  The simplest and easiest method will be the most effective: drink icy, cold water or sport drink (whichever is appropriate) before you workout.   Then, continue to drink it during your workout.  Even if your workout is short, you may find you need more fluids on a hot day. WHY? Your body has to work hard to get rid of the excess heat and will divert blood from your muscles to your skin to cool.  In addition, it takes more oxygen to do get rid of this extra heat, and if you're starting to dehydrate and your blood is thickening, it's an invirtuous cycle.  So the bottom line is, if it's hot as blazes, drink cold early, drink cold often.  And if you're like some of my clients, you may just want a "cold one" after too. ?
BUT WAIT!  What Do You Do If You're Caught Without Any Gear ?!?!
If you're caught out in the heat in training or racing and don't have any tech gear, then you still have options.  Go simple.  As you go through aid stations or convenience stores, grab water to drop over your head to cool yourself.  When available, grab ice on runs and stuff it into your jersey or tri kit pockets near your belly and also in your hat.  In the case of Cozumel 70.3 where we had ice every kilometer and a 112 heat index, the ice melted before the next km mark, but at least we were able to keep moving forward. (Side Note – It's helpful to know how to yell out ice in the language of the country you're racing in! "HIELO, HIELO" worked well in Mexico!)
In the end, if you can keep your cool, then you can train and race in any environment.  With more time and planning there are so many heat acclimatization strategies we use, especially for athletes racing in places like Kona, HI or in areas we know will be hot.  If you'd like to discuss your race and the climate you'll be racing in, then please feel free to send an email to: headcoach@clarezechercoaching.com to set up a free consultation!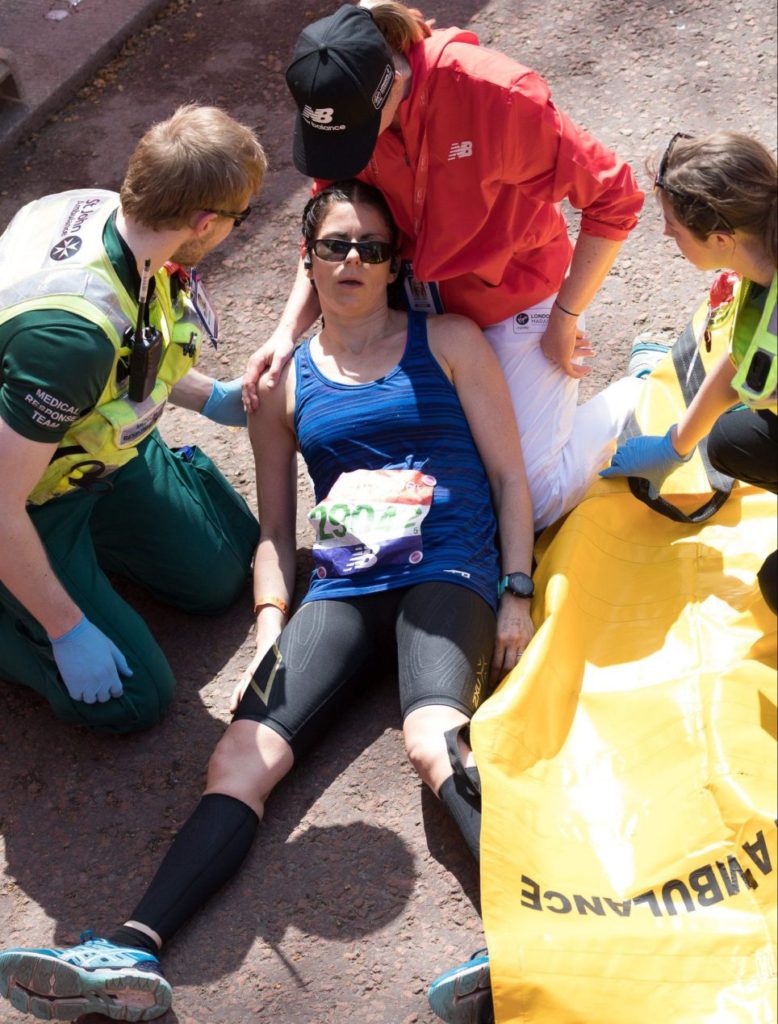 Please note the Clare Zecher and Clare Zecher Coaching are in no way affiliated with any of the products referenced in this article.
This content is not intended to be used for medical diagnosis or treatment. The information provided is not intended to be a substitute for professional medical advice.  As health and nutrition research continuously evolves, we do not guarantee the accuracy, completeness, or timeliness of any information presented on this website.