Youth Intermediate & Advanced Mountain Biking
Mondays and Wednesdays, Boys and Girls Club Camp Simmons, September 18th – November 20th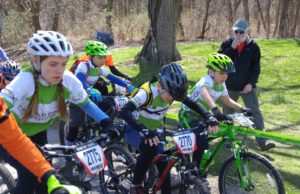 Program runs Mondays and Wednesdays from 9/18 for ten weeks. We will meet from 4-5 pm. The first day of practice is registration and safety checks and an obstacle course to test rider's close quarters handling skills. The first few weeks of practice will move between the venues of the Eastern Greenwich Civic Center and the Boys & Girls Club Camp Simmons so that the coaches may evaluate the skill of each rider.
From there we will move between Mianus State Park and Boys & Girls Club Camp Simmons as needed to work on rider conditioning and skills. Riders should be prepared to improve their skills and conditioning during practices.
Cyclocross racing is available and the team will participate in the Connecticut Series of Cyclocross races throughout the season and beyond. Additional races are available in the tri-state area. Racing is not required, but it is encouraged. This course is perfect for all team members that have participated in our past intermediate/ advanced programs and will have a mix of mountain biking and cyclocross specific riding. (10 minimum, 24 maximum).
10 weeks/ $400 (USA Cycling license required for racers only, if purchased already, please verify paperwork has been filed with USA Cycling at time of registration and provide USA Cycling Rider #)
Location: Boys and Girls Club Camp Simmons
Day: September 18th – November 20th
Time: 4:00pm – 5:00pm
Dates: April 19th – June 26th
Cost: $400
Sign Up!
---